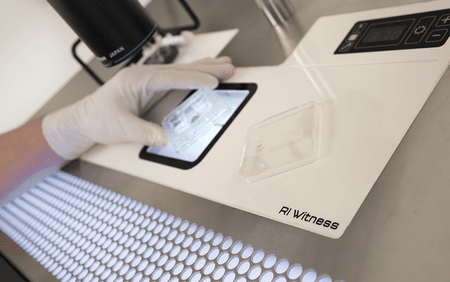 RI Witness
The best security to avoid an exchange of eggs and sperm
Why RI Witness?
RI Witness is a unique technological security system that ensures even greater security around the identification of patients, eggs, sperm and embryos throughout IVF treatment. With this, you can safely know that both our skilled embryologists and the technology verify the identification. If the match between eggs and sperm in the laboratory is incorrect, the security system will trigger an alarm.
RI Witness ensures that every step of the fertility cycle in the laboratory is properly and safely controlled, and maintains the safety of your treatment.
RI Witness uses Radio Frequency Identification (RFID) to detect and monitor all activity in the IVF laboratory. The system helps reduce the risk of human error when moving sperm and eggs from one bowl or tube to another, and protects every single step of the IVF cycle.
For IVF, freezing treatment and egg donation treatment, you will be given a Witness Card, which is a personal ID card.
It is thus your greatest security - and security - that there is no confusion of sperm and eggs in the laboratory.